Skip to Content
About Littleton Auto Repair
Established in 2016
Ken Scholl the Owner of Littleton Auto Repair has been an ASE Certified Master Technician with L1 certification for 18years. He owned an Auto Repair Shop in California named Chapman Auto Repair for 12 years. He moved from California to Colorado to start a family with CO-Owner & Wife Shannon Scholl. Their vision was to create an Auto Repair Shop with all of the amenities the big dealerships have at a reasonable price focusing on the customer and their needs over the needs of the business. Littleton Auto Repair is eager to integrate with the local community. We are locally owned and operated and we truly are Nice Folks to Deal With!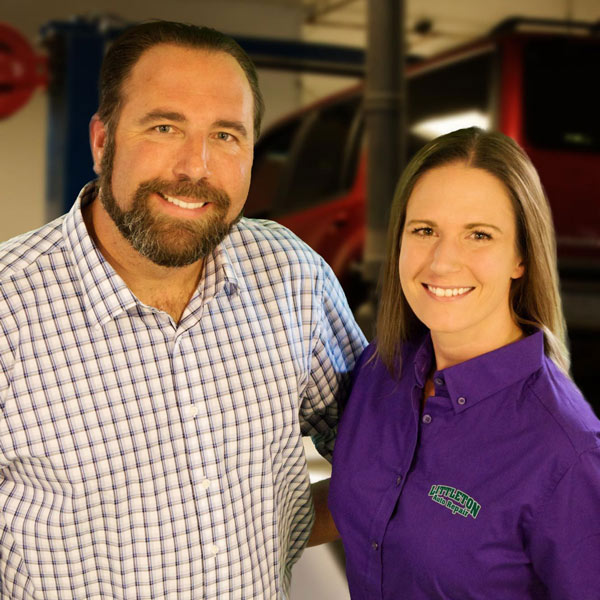 Meet the Owners, Ken and Shannon Scholl
Thank you for checking out Littleton Auto Repair! My wife Shannon and I are glad you are here to learn more about our company.
This business was born out of a lack of customer service in the Auto Repair Industry. After working in the Auto Repair Business for 10 years I decided I could do it better.
Better How?
We were going to wash all of the cars.
We were going to offer free loaner cars.
We were going to have a full time shuttle driver to drop you off & pick you up!
We were going to offer a lifetime warranty to remove the thought of using cheap parts.
It goes on and on…
We are the friendliest Auto Repair anywhere! Come see for yourself.
Littleton Auto Repair Amenities
Customers choose Littleton Auto Repair because we have a Lifetime Warranty on parts and labor and we have a 3 year 36,000 Mile Nationwide Warranty if you are more than 25 miles from our shop. We provide complimentary loaner vehicles. We provide a free car wash with each visit. We have 5 ASE Master Certified Automotive Technicians with the L1 Advanced Engine Performance Specialist enhancement.
Our Labor Rate is only $99/Hour! We have a spacious lobby with WIFI, & over 400 movies, Snacks, Drinks, and a Full-Time Shuttle Driver if you prefer to wait at home or the office! We provide Digital Inspections sent directly to your cell phone & email so you can see what we are seeing and you can make an informed decision. We can provide same-day service on most repairs!
People choose Littleton Auto Repair because we are nice folks to deal with,
Call Us Today for a Free Estimate